🦀 PT Crab Issue 113 - Talking Tendinopathy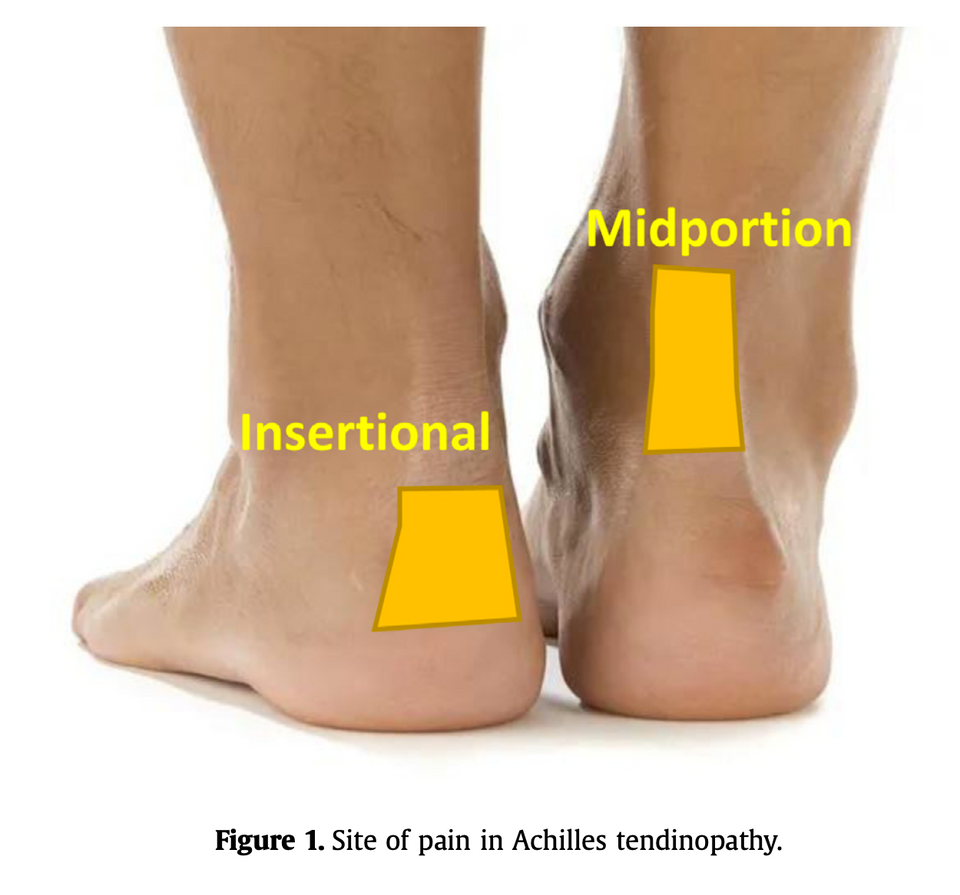 This week's edition of PT Crab is all about tendinopathy and boy are these studies complex. I'll be breaking them down as usual, but this is a good time to tell you that if you're someone who ever treats achilles tendinopathy, we're getting into it below and we also have a clinical practice guidelines for it over on the website alongside about 25 other CPGs. See all that here.
Without further ado, let's dive in!
---
How to Manage Achilles Tendinopathy
The Gist - This invited review in the Journal of Physiotherapy looks into the PT management of tendinopathy in a complex perspective that's about 1/3rd of the way to a CPG. In its favor, it's about 4 years newer than the CPG, so it has some updated studies. If you were going to give a PT school lecture on achilles tendinopathy, this article is informative enough that it could be your sole resource, it's that complete. It's also really well laid out, so definitely give it a read if this is something you regularly see.
Epidemiologically, "men and women are equally affected by Achilles tendinopathy and the peak age for incidence is from 40 to 59 years." Unsurprisingly, it's usually associated with a dramatic change in training load, specifically referred to as "stretch-shorten cycle activity" of the tendon. Movement patterns that include "excessive ranges of dorsiflexion" are most concerning. That includes things like running up hills or backward running. Alcohol use, training in cold weather, and decreased plantar flexor strength are associated with the development of tendinopathy as well.
Recovery-wise, wait and see doesn't appear to work. "Only 24% of participants exposed to a wait-and-see intervention for midportion Achilles tendinopathy were classified as recovered." Meanwhile, exercise interventions show clinically significant improvement but studies show that "between 44% and 75% of people may not respond." The summation of research shows that, in general, eccentric exercise (such as the Silbernagel protocol), heel wedging of 8 - 12mm, and extracorporeal shockwave therapy are effective in the short, medium, and long terms. Cessation of activity is not effective and can lead to worse outcomes at one year, leading to the recommendation of activity modification to keep pain within an acceptable range, but not ceasing it altogether.
Tell Me More - That was a lot but there is definitely more. Much of the second half of this 17 page paper discusses the biopsychosocial aspects of achilles tendinopathy. Since a large part of injury management is self-management, the authors discuss fear of worsening the condition and maladaptive behaviors that are common with tendinopathies. They recommend using a patient-centered approach that takes one through three major educational steps, "What is wrong with me?", "What can we do for it?", and "What can I expect?". These questions are presented with specific answers that really break things down. I've included an image of them below.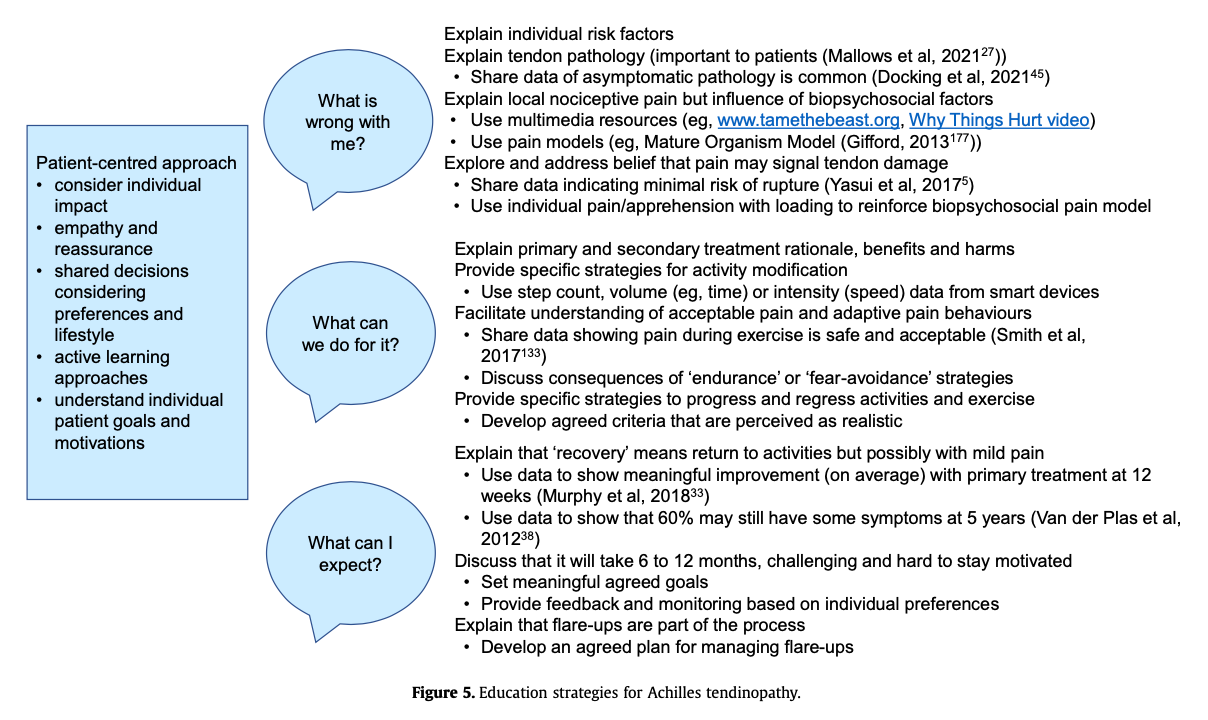 The author also recommends the use of the Tampa Scale of Kinesiophobia and a graded exposure exercise protocol for those who appear to be fearful of rein jury. This also has a great image associated with it, but you'll have to check out the paper for that. There's also a wonderful table of the characteristics of common exercise interventions for achilles tendinopathy that looks into Stanish and Curwin, Alfredson, Modified Alfredson, Silbernagel, and Heavy Slow Resistance protocols. They break down the studies for those too, but I'm running out of room here so it's about time to wrap up. One last mention of the paper's recommendation for Silbernagel and Modified Alfredson, based on the data they've collected. And with that, I'm off.
Paper? Open access here.
---
From the Archives: A PT's role in treating survivors of sexual assault
The Gist - This is another one of those "hey, just go read the thing!" articles, and this one is fortunately very short and open access. I am going to pull out the key points for you in case you don't have time, but do highly recommend reading this two page article written by PTs and psychologists from Australia.
In brief - one in four women (on average) has experienced sexual assault, which means that PTs should have some understanding about how to best care for this large patient population. In case you somehow think this can't apply to PT, sorry, that's just not the case. Sexual assault impacts physical, social, emotional, and psychological health. Even if you don't believe in the Biopsychosocial model of pain (and you should), this has a real impact on treatment. And if you're a pelvic floor specialist, this doubly applies. Both because people who have been sexually assaulted experience more incontinence and constipation and because they are more sensitive about their treatment.
Want more physical stuff? How about tonic immobility? 70% of women report tonic immobility during sexual assault. It's a profound, global motor inhibition where skeletal muscles tense rigidly and can't be moved. This diminishes vocal capacity at the time of assault and has long term muscular consequences afterward.
I'm done summarizing, please read the two pages. It's less than 5 minutes that could change how you practice entirely.
Tell Me More - Nope! Read the paper.
Paper Please! I'm glad you asked. Here you go.
---
And that's our week! Thanks for reading and do please share PT Crab with colleagues, friends, and frenemies. Sorry I've been flipping around the week and not being consistent on Wednesdays. I'm striving to fix that and hopefully will be back on a consistent schedule soon. Things have been a bit nuts over here and the Crab is a passion project with great supporters, not a money-making enterprise (yet!), so it has to come second. If you want to help me be able to put the Crab first, please become a supporter here to get triple the articles each week and help the Crab reach even more PTs. Thanks!
---
Here's this week's bibliography:
Malliaras, P. (2022). Physiotherapy management of Achilles tendinopathy. Journal of Physiotherapy, 68(4), 221–237. https://doi.org/10.1016/j.jphys.2022.09.010    
Stirling, J., Chalmers, K. J., & Chipchase, L. (2021). The role of the physiotherapist in treating survivors of sexual assault. Journal of Physiotherapy, 67(1), 1–2. https://doi.org/10.1016/j.jphys.2020.11.008